Kiley - Clinton Engineering Ltd.
The Steering Rack Specialist UK & World Wide Service
BMW E21 High Ratio Manual Steering Racks Right-Hand Drive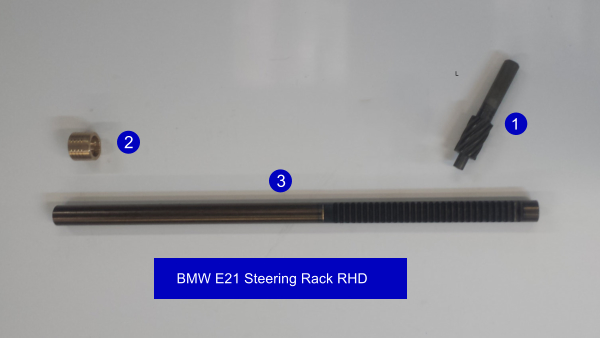 Developed in association with the leading members of the BMW E21 Classic Owners Club these racks are brand new.
A heavy duty phosphor bronze rack bush.
These high ratio E21 racks are 2.5 turns lock to lock.
Kiley - Clinton not only supply the UK but ship worldwide.
For more information please telephone 0121 772 8000 - outside the UK / different time zone please use our contact form and we will get back to you typically next working day.
All major credit cards accepted apart from American Express.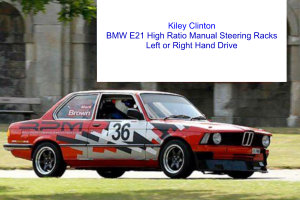 Anguilla
Antigua and Barbuda
Australia
Bahamas
Bangladesh
Barbados
Bermuda
Bhutan
Botswana
Brunei
Cayman Islands
Christmas Island (Australia)
Cocos (Keeling) Islands (Australia)
Cook Islands
Cyprus
Dominica
East Timor
Falkland Islands
Fiji
Grenada
Guernsey (Channel Islands)
Guyana
Hong Kong
India
Indonesia
Ireland
Isle of Man
Jamaica
Japan
Jersey (Channel Islands)
Kenya
Kiribati
Lesotho
Macau
Malawi
Malaysia
Maldives
Malta
Mauritius
Montserrat
Mozambique
Namibia
Nauru
Nepal
New Zealand
Niue
Norfolk Island (Australia)
Pakistan
Papua New Guinea
Pitcairn Islands (Britain)
Saint Helena
Saint Kitts and Nevis
Saint Lucia
Saint Vincent and the Grenadines
Seychelles
Singapore
Solomon Islands
South Africa
Sri Lanka
Suriname
Swaziland
Tanzania
Thailand
Tokelau (New Zealand)
Tonga
Trinidad and Tobago
Turks and Caicos Islands
Tuvalu
Uganda
United Kingdom
Virgin Islands (British)
Virgin Islands (US)
Zambia
Zimbabwe
Countries That Drive On The Left
Therefore these steering racks which are right hand drive are very suitable for cars in the countries listed left.
These are sold without the
need to supply an exchange.
Export is no problem
If you are outside the United Kingdom and would be interested in purchasing one or more of these brand new BMW E21 manual steering racks please contact us with your address details and the timescale in which you would require delivery and we will gladly quote your requirements.
Credit and Debit Card Payments are accepted
Credit and Debit Card Payments are accepted via Visa and Master Card unfortunately we cannot take Amex.
More Information
Please
telephone
0121 772 8000