Kiley - Clinton Engineering Ltd.
The Steering Rack Specialist UK & World Wide Service
Steering Racks - Specialists RHD / LHD
Established in 1975

Kiley - Clinton Engineering
"a lifetime's experience in"

for: -

Rack and pinion steering
power and manual
Rack and Pinion Kits
Steering boxes
Pumps
UJ's
Remanufacturing of brake calipers

Modern Passenger Cars
Vans up to 3.5 tonnes
Rally / Motor Sport / Kit Cars
Classic Cars
Manufacturers of new and remanufactured steering systems.

With a huge collective experience in the steering rack systems industry, Kiley - Clinton is a specialist engineering company who can supply a wide range of steering system solutions.
Whilst the website has been segmented to make it easier to locate the information you seek there is no substitute for picking up the phone (Tel: 0121 772 8000) and speaking to one of our engineers. Our team would be delighted to discuss your steering rack problems / requirements, and come up with a solution.
Summary of our remanufacturing service

As applicable to: -
Units cleaned and stripped
Parts inspected & checked for wear, corrosion and defects
Oil seals, gaskets replaced
Bush's, bearings, replaced where required
Parts polished / ground / honed where required
Units re-assembled
Power units, racks, boxes and pumps all rig tested
Units then lubricated, bellowed where applicable painted and protective caps fitted and warranty date coded
Boxed in plain white carton if required
New oil transfer pipes fitted as necessary
Rack bars 100% checked for straightness

If you are looking for a team of experienced engineers in the steering rack business welcome to Kiley - Clinton.
New Range PAS Steering Rack Bar for Aston Martin, Jaguar V12 & Jensen Interceptor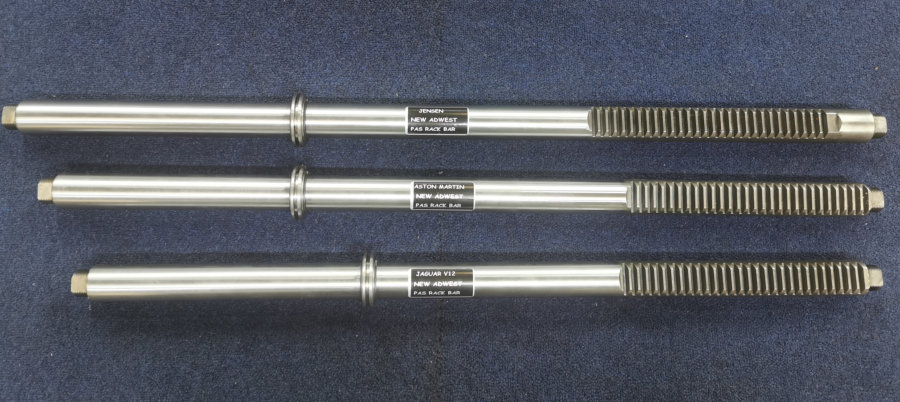 New Range Jaguar XK140 and XK150 brand new racks...