Kiley - Clinton Engineering Ltd.
The Steering Rack Specialist UK & World Wide Service
Other Steering Related
Services and Products
New Steel Bundy Oil Lines
New steel bundy oil lines (pipes) mostly from stock.
Seal Kits
Most seal kits are ex-stock and are OEM or better.
By way of example
Land Rover Discovery / Range Rover 4 bolt cover plate. Using mostly British parts and seals as OEM (Not Indian Origin)
Jaguar XJ6 / XJ12 series 1, 2 and 3 including housing gasket, feed + return olives oil seals + circlips if required.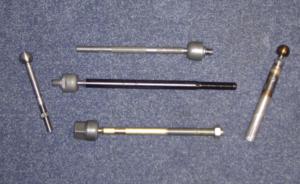 Tie Rods
Kiley - Clinton can re-set or provide new tie rods. Also modified tie rods shortened and thread rolled. This gives a much stronger thread as OEM method including locking nuts.
Mounting Bush
Examples available...
XJ6
XJ12
XJS
Also XJ40 6 cylinder and 12 cylinder cars
Mounting bush's and Mounting Rubbers - in polyurethane for extended life.
For more information please telephone 0121 772 8000
More Information
Please
telephone
0121 772 8000
Specialist and Kit Car Rack Assemblies
Modified Shortened casings sleeved and welded rack bars modified
Jaguar V8
Coffee Tables
It started as something I did for myself and as those who have seen it commented, "I would like one" we now offer as a product.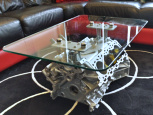 ---