Kiley - Clinton Engineering Ltd.
The Steering Rack Specialist UK & World Wide Service
Developed in association with the leading members of the BMW E21 Classic Owners Club these racks are brand new.
A heavy duty phosphor bronze rack bush.
These high ratio E21 racks are 2.5 turns lock to lock.
Kiley - Clinton not only supply the UK but ship worldwide.
For more information please telephone 0121 772 8000 - outside the UK / different time zone please use our contact form and we will get back to you typically next working day.
All major credit cards accepted apart from American Express.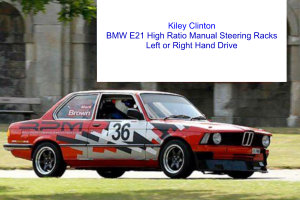 Abu Dhabi
Afghanistan
Albania
Algeria
American Samoa
Andorra
Angola
Argentina
Armenia
Aruba
Austria
Azerbaijan
Azores
Bahrain
Balearic Islands
Belarus
Belgium
Belize
Benin
Bolivia
Bonaire
Bosnia & Herzegovina
Brazil
Bulgaria
Burkina Faso
Burma (officially Myanmar)
Burundi
Cambodia
Cameroon
Canada
Canary Islands
Cape Verde
Central African Republic
Chad
Chile
China, People's Republic of
Colombia
Comoros
Congo, Democratic Republic of
Congo, People's Republic of
Costa Rica
Cote d'Ivoire (Ivory Coast)
Croatia
Cuba
Curacao
Czech Republic
Denmark
Djibouti
Dominican Republic
Dubai
Ecuador
Egypt
El Salvador
Equatorial Guinea
Eritrea
Estonia
Ethiopia
Faeroe Islands
Finland
France
French Guiana
French Polynesia
Gabon (Gabonese Republic)
Gambia
Gaza
Georgia
Germany
Ghana
Gibraltar
Greece
Greenland
Guadeloupe
Guam
Guatemala
Guinea
Guinea-Bissau
Haiti
Holland (officially the Netherlands)
Honduras
Hungary
Iceland
Iran
Iraq
Israel
Italy
Ivory Coast (Cote d'Ivoire)
Jordan
Kazakhstan
Korea, North
Korea, South
Kosovo
Kuwait
Kyrgyzstan
Laos
Latvia
Lebanon
Liberia
Libya
Liechtenstein
Lithuania
Luxembourg
Macedonia
Madagascar
Madeira
Mali
Marshall Islands
Martinique
Mauritania
Mayotte
Mexico
Micronesia, Federated States of
Moldova
Monaco
Mongolia
Montenegro
Morocco
Myanmar (formerly Burma)
Netherlands
New Caledonia
Nicaragua
Niger
Nigeria
North Korea
Northern Mariana Islands
Norway
Oman
Palau
Panama
Paraguay
Peru
Philippines
Poland
Portugal
Puerto Rico
Qatar
Reunion
Romania
Russia (officially the Russian Federation)
Rwanda
Saba
Saint Barthelemy (informally also referred to as Saint Barth's or Saint Barts)
Saint Martin
San Marino
Sao Tome and Principe
Saudi Arabia
Senegal
Serbia
Sierra Leone
Sint Eustatius
Sint Maarten
Slovakia
Slovenia
Somalia
Somaliland
South Korea
South Sudan
Spain
Sudan
Sweden
Switzerland
Syria
Tahiti
Taiwan
Tajikistan
Togo
Tonga
Tunisia
Turkey
Turkmenistan
Ukraine
United Arab Emirates (UAE)
United States of America (USA)
Uruguay
Uzbekistan
Vanuatu
Vatican City
Venezuela
Vietnam
Wallis and Futuna
West Bank
Western Sahara
Yemen
Export is no problem
If you are outside the United Kingdom and would be interested in purchasing one or more of these brand new BMW E21 manual steering racks please contact us with your address details and the timescale in which you would require delivery and we will gladly quote your requirements.
Credit and Debit Card Payments are accepted
Credit and Debit Card Payments are accepted via Visa and Master Card unfortunately we cannot take Amex.
More Information
Please
telephone
0121 772 8000